1 day ago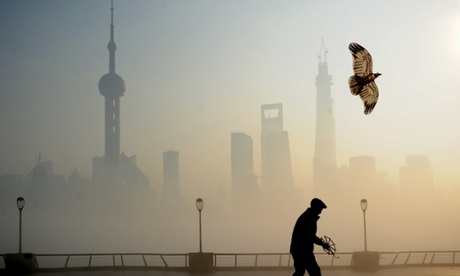 (A man flies kite at The Bund on December 5, 2013 in Shanghai, China. Heavy smog continued to hit northern and eastern parts of China on Thursday, disturbing the traffic, worsening air pollution and forcing the closure of schools. Photograph by ChinaFotoPress/Getty Images)
Eastern China's dangerous levels of air pollution blamed on coal burning, car exhaust, factories and weather patterns.
Shanghai's concentration of tiny, harmful PM 2.5 particles was 602.5 micrograms per cubic meter on Friday afternoon, an extremely hazardous level that was the highest since the city began recording such data last December. That compares with the World Health Organisation's safety guideline of 25 micrograms. (Guardian)
6 days ago
Beautiful images taken by Wei Gensheng who works as a crane operator in Shanghai (Telegraph via @urbanphoto_blog)
1 week ago
"I wonder who lives behind here," I said to my friend. High fences in the French Concession suggesting homes occupied by senior government officials or a CEO. But enclosed in the middle of ashikumen lilong in northern Hongkou? That seemed random.
We circled the walls to find a small door that had instructions scribbled in chalk, "Deliveries, please knock loudly." No answer after hard rapping on the door.
Spotting an old lady washing vegetables in a nearby open sink, I sought more information.
"There are around 50 families behind that wall, the entrance is on the other side of the lane, on Xiangde Lu (祥德路)," she replied.  (Shanghai Street Stories)
2 weeks ago
(Photogrpah via News.cn)
Here's a look at the spectacular 3D light show displayed under the Oriental Pearl TV Tower in Shanghai on Friday for the 170th anniversary of the opening of Shanghai's port. It's a ten day show, so if you missed the lights over the weekend, you've still got until the 24th go. (Shanghaiist)
3 weeks ago
(Shanghai's air quality levels were around twice as bad than those in Beijing on Thursday, with city authorities urging schools to cancel outdoor activities. Photo: REUTERS/Carlos Barria) 
Shanghai's semen is facing an unprecedented crisis with experts labeling pollution as one of the "major culprits" for the mega-city's increasingly dismal sperm quality, Chinese media claimed.
Only one-third of the semen at Shanghai's main sperm bank meets World Health Organization standards, the Shanghai Morning Post reported on Thursday. (Telegraph)
3 weeks ago
Inserted into a building originally designed by Arata Isozaki & Associates, a new auditorium by AS, architecture studio interprets Chinese tradition and spirituality into its interior. Located in the Pudong district, Shanghai, the Himalayas Center's Daguan Theatre features a 9,996 m2 multipurpose hall that is capable of accommodating 1,200 spectators. Playfully interacting between the existing structure and the new intervention, a flexible stage, which consists of ten lifting platforms can be raised to create one large floor area and also be converted into four different types of configurations. A rough, organic cave made from PVC fabric wraps its way through the auxiliary spaces, combining a sense of high and low technology to create a tension between the existing and the new, soft textiles. Suspended above the auditorium are modular structures made of honeycomb mesh that can easily be modified. These 'clouds', which hold stage devices, seem to float into the hall, inducing a feeling of weightlessness into the open space. (Designboom)
3 weeks ago
A collection of time-lapses shot from Joe Nafis' apartment in Shanghai, China over the course of 2 years. (Via Shanghaiist)
4 weeks ago
(Image via Reddit)
On October 30, Kerry Hotel in Pudong, Shanghai attempted to create a Guinness World Record of the Largest Ball Pit. Part of the "Pink October" campaign, an event aimed at raising awareness of breast cancer prevention, a whopping 1 million pink and green balls filled a swimming pool that was 82 ft long by 41 ft wide (or 25 meters by 12.6 meters). We're happy to report that they broke the world record! (My Modern Met)
1 month ago
(A doctor examines patients in a corridor of the Zhongshan Hospital of Fudan University in Shanghai on March 16, 2012. Photo by Imaginechina / AP)
Should medical staff be trained to tackle knife-wielding assailants? You'd hope not. But two Shanghai hospitals are doing just that. On Tuesday, staff members at the city's Zhongshan and Huashan hospitals gathered to learn self-defense from martial-arts experts. Photographs from the sessions show simulated combat involving weapons and foldable chairs. "It will teach them how to react to an unexpected attack," one organizer told local press.
The idea of dropkicking doctors sounds like a dark joke, but their fear and the risks are real. On Oct. 25, at a hospital not far from Shanghai, Dr. Wang Yunjie a 46-year-old chief physician from the ear, nose and throat department of No. 1 People's Hospital in Wenling was stabbed to death by a patient. The attacker, disgruntled over the outcome of a nasal surgery, entered the office looking for his doctor, could not find him, so charged at the chief with a 30-cm blade. Two others were seriously injured before the attacker was subdued. (Time)
1 month ago
Evan Chakroff writes about Shanghai, its lights, its past and its projected future present for Saturated Space.
"In Shanghai, light and colour give designers, planners, and policy makers the freedom to present an idealized image of their buildings, their city. Dynamic, animated lights dance through the haze, but hidden by darkness, massive fissures split the sidewalks, the water is undrinkable, and the air is toxic. While the idealized image the city seeks to project is one of uncontested modernity, conditions on the ground (in the harsh light of day) deny this. Architectural lighting is thus instrumental – even essential - in the projection of modernity, and represents a key aspect of Chinese society's reclamation of agency following a long period of oppression and turmoil." (Saturated Space via Archinect)