3 days ago
(Photograph by Delphotos/Alamy)
The annual Lantern Festival brings crowds to the Yu Yuan district in Shanghai's Old Town. The illuminating event—which includes a parade and lantern shows—caps off the 20-some-day celebration of Spring Festival, or Lunar New Year. (National Geographic)
1 week ago
(People participate in a protest against a battery factory on a street of Songjiang district,  on the outskirts of Shanghai on Saturday. Photo: Reuters)
Hundreds of protesters gathered in Shanghai yesterday to oppose plans for a lithium battery factory, highlighting growing social tension over pollution on the mainland.
Residents are concerned about potential waste water and gas emissions from the plant, which would be built by Hefei Guoxuan High-Tech Power Energy. (South China Morning Post)
1 week ago
Love this picture by Rob Smith that was included in his photo essay for the Public issue of MAS Context about everyday life on the streets of Shanghai.
2 weeks ago
(Retired Shanghai machinist Zhou Miaorong demonstrates his invention of a rapid evacuationslide that makes escaping a burning high-rise safer and faster. Photo by Wu Ni/China Daily)
Zhou Miaorong, a retired Shanghai machinist, has invented a rapid evacuation slide that willmake escaping a burning high-rise safer and faster.
During a fire, residents in a tall building can lie in the chute and slide to the building's exit at amuch faster speed than walking down, Zhou says.
"It needs only two to three seconds to slide down one story," says the 70-year-old inventor. (China Daily)
2 weeks ago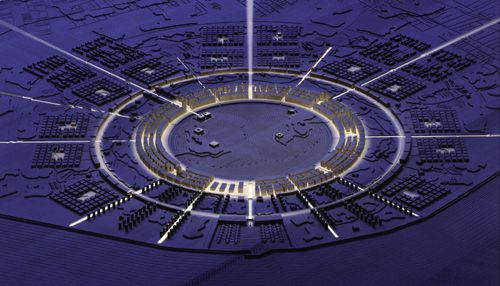 (Lingang New City designed by gmp Architekten)
High-end international communities will be built in the Pudong New Area's Lingang New City, which is expected to attract top-level manufacturing and modern service industries by 2020.
The 315.6-square-kilometer Lingang New City is 75 kilometers from downtown Shanghai along the southeast coast at the mouth of Hangzhou Bay. It is connected to Yangshan Deep Water Port by Donghai Bridge. Around 800,000 permanent residents will live in the area. (Shanghai Daily)
2 weeks ago
(Image of Shanghai metro from Shanghai Daily)
Shanghai will be linked by Metro to Kunshan City in neighboring Jiangsu Province when subway trains will be put on trial runs within a week, local Metro operator said yesterday. 
The Anting-Huaqiao section on Metro Line 11 is likely to become operational this year after a complete trial run. (Shanghai Daily)
3 weeks ago
Construction has begun on the 4.5 hectare sustainable central business district near the Hongqiao airport in Shanghai. (via designboom)
3 weeks ago
Madrid's 2010 Shanghai Pavilion - a glazed sustainable housing solution wrapped in bamboo louvers - is about to undergo a sustainable upgrade with a new facade of Corten steel umbrellas. The building was designed by Foreign Office Architects and eventually converted into a commercial office and retail complex, although it is showing signs of rust and it's bamboo elements have completely rotted out. So the municipality commissioned 3Gatti Architecture Studio to design a striking new shading system (Inhabitat)
1 month ago
(Photo by Lars Plougmann via Shanghaiist)
Presently, getting between Pudong and Hongqiao is a time-consuming undertaking regardless of whether you take a taxi, bus, or train.
However, that will soon change (well, in several years) when the city opens a direct airport-to-airport rail corridor. Shanghai is currently in the process of planning a high-speed express railway line that would connect the two airports, with journeys taking under 40 minutes. (Shanghaiist)
1 month ago
The Shanghai Tower, which is still under construction, reached 501 meters (1,643 feet) April 11, surpassing the neighboring Jin Mao Building and the World Financial Center. Shanghai Tower is now the second tallest structure in China, and will become the tallest building when it reaches completion in 2014. (CTBUH)