2 hours ago
The Shanghai subway and maglev operators will issue a common Maglev & Metro pass tickets from today. It combines Metro's one-day-pass and a maglev ticket.
For 55 yuan (US$9), pass users will be entitled to a single journey ride on the maglev and a full-day use of the city's metro. A 85-yuan pass allows a two-way journey on the maglev. (Shanghai Daily)
2 weeks ago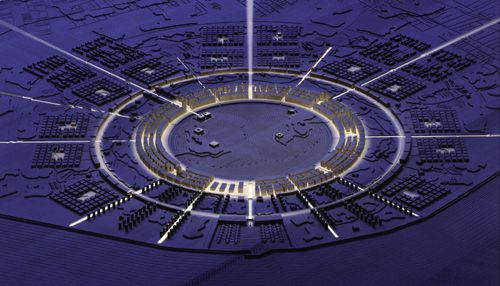 (Lingang New City designed by gmp Architekten)
High-end international communities will be built in the Pudong New Area's Lingang New City, which is expected to attract top-level manufacturing and modern service industries by 2020.
The 315.6-square-kilometer Lingang New City is 75 kilometers from downtown Shanghai along the southeast coast at the mouth of Hangzhou Bay. It is connected to Yangshan Deep Water Port by Donghai Bridge. Around 800,000 permanent residents will live in the area. (Shanghai Daily)
1 month ago
Shanghai is to raise the minimum monthly wage by 170* yuan (US$27), from the current 1,450 yuan to 1,650 yuan, starting on April 1. 
(
Shanghai Daily
)
* I guess someone at Shanghai Daily is not really good a math. The raise is 200 yuan.
2 months ago
(Photo by Tripfoto)
1 in every 50 Shanghai women has cancer, a total of more than 140,000 currently living in the city. 

Each year, 357 in every 100,000 are diagnosed with cancer in the city - 25,000 cases - and there are 14,000 deaths from it, health officials said ahead of International Women's Day on Friday. (Shanghai Daily)
4 months ago
(Customers tour a newly opened shopping mall on Expo Boulevard yesterday. Photo by Zhang Suoqing)
The redevelopment of the former 2010 Shanghai World Expo site took a major step forward yesterday with the opening of a four-story shopping mall on Expo Boulevard.

The first phase of the River Mall opened at the two sides of the 1-kilometer Expo Boulevard, the main access to the Expo site. (Shanghai Daily)
6 months ago
(H-Bahn Düsseldorf Quelle. Photo by Benutzer Juergen)
Shanghai plans to build the country's first suspension monorail to improve transportation in the increasingly busy Hongqiao area, an official said yesterday.

The electricity-powered monorail has a planned length of about 10 kilometers and is expected to connect Metro stations, residential areas, office buildings and Hongqiao International Airport in the Hongqiao Transport Hub, according to an STV news report yesterday.

The monorail, which has been nicknamed air train, will be capable of transporting more than 6,000 passengers per hour, Li Yaoxin, director of Changning District, told STV. (Shanghai Daily)
6 months ago
(View of the Huangpu River. Photo by Jakub Hałun)
Shanghai will preserve and renovate a series of old docks and factory buildings along the Huangpu River, converting them into attractions with cultural and recreational facilities next year, officials said yesterday. 
Minsheng Road Dock, which was built in the Qing Dynasty (1644-1911) to handle grains and sugar, and the old workshop of Shanghai Shipyard, built around 1864, will be redeveloped, the river banks development office told the city's political advisors.(Shanghai Daily)
9 months ago
(Shanghai Stock Exchange Building)
Shanghai remains the world's sixth most competitive financial center this year after New York, London, Tokyo, Hong Kong and Singapore, an industry index showed today.
Shanghai, with an ambition to become the world's leading financial center by 2020, was rated a center showing the most potential for three consecutive years, beating Hong Kong, New York and Tokyo in terms of market growth, economic prospect, and innovation. (Shanghai Daily)
9 months ago
Overcrowded
(Photo by Juan de Dios Pérez)
Shanghai has grown so crowded that its downtown population density is nearly 17,000 per square kilometer, a government survey report said.

The city's ever-growing population will surpass the capacity of its infrastructure and utilities in three years, if unchecked. Local population and environment experts believe Shanghai can support a maximum of 25 million to 28 million people, a limit to be broken in three years. (Shanghai Daily)
9 months ago
Shanghai, along with US film giant DreamWorks Animation, is to invest more than 20 billion yuan (US$3.1 billion) to build a culture and entertainment complex along the Huangpu River.

The city yesterday launched Oriental DreamWorks, a joint venture with the US film company, to build the complex titled "Dream Center" as well as create a world-class animated film studio.
The center in Shanghai's Xuhui District will include theaters, shops, restaurants, bars and hotels and will open in 2016. (Shanghai Daily)